Funny & Creative Windscreen Notes From Angry Drivers
There's nothing that quite gets a collective universal hatred like bad parking. This is something that tap-dances on all our last nerves unlike anything else. Some people know how to take the high road when it comes to this. Others take matters in their own hands (and pens) and leave some scathing and often hilarious notes to confront bad parkers. So, we found the best notes left on cars that will give some catharsis and a good laugh to go with.
Spot On!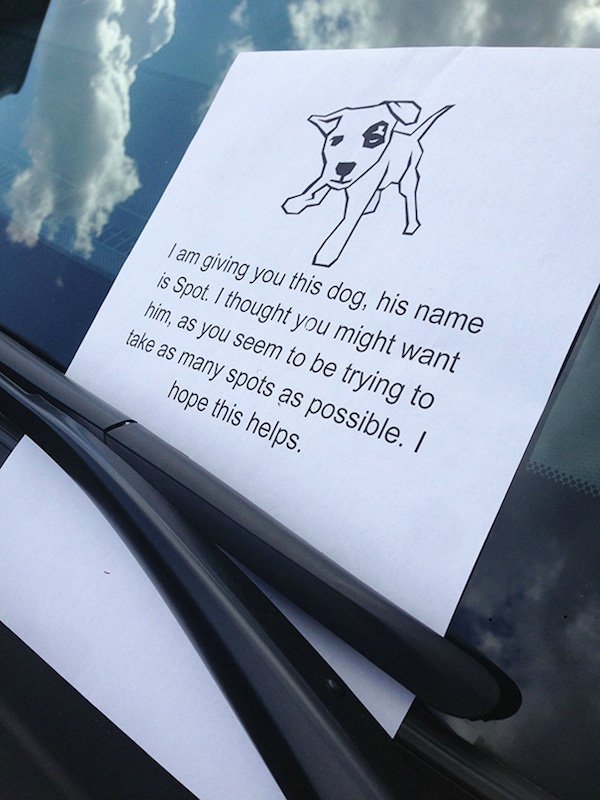 The best way to address people who park poorly is to hound them about it until they roll over and take the hint. This person left a funny note challenging the driver to take up more spots that don't belong to him. It's the perfect way to bite back and hopefully, the driver will finally pick his spot and stay.
Not All Heroes Wear Capes
When he's not avenging the world with Thor and Black Panther, Spider-man keeps it close to home sometimes. Even though he's high up in the air web-slinging against skyscrapers, like all of us he still can't stand people who don't know to park the right way.
Taken For A Ride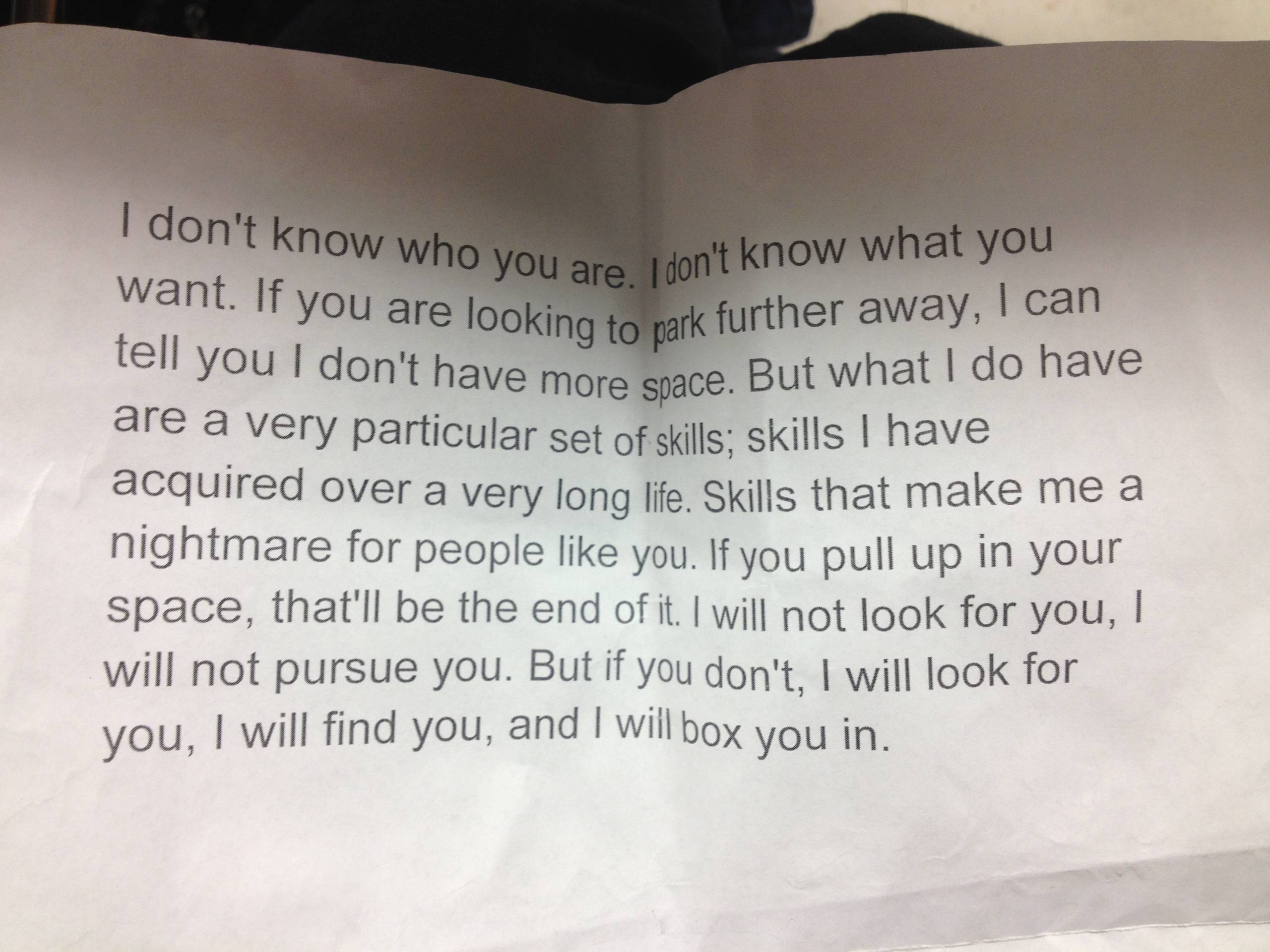 If only everyone had a particular set of skills like parking then the world would truly be a more peaceful place. This person went full Liam Neeson and let it be known that parking your car like a normal person isn't something they take lightly. 
Read Between The Lines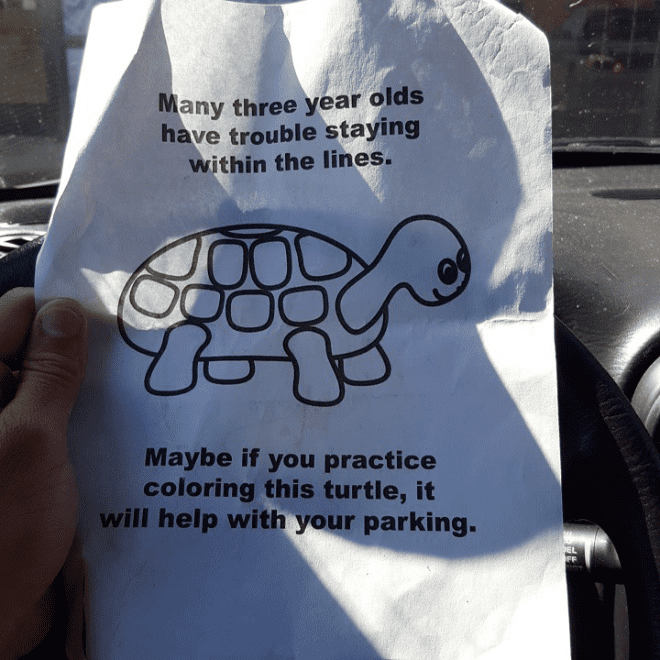 If 3-year olds can stay between the lines, maybe they should be the new driving instructors? What's the worst that could happen? They seemed more than qualified when it comes to staying between the lines. They could teach drivers a thing or two about that.
Who SAW This Coming?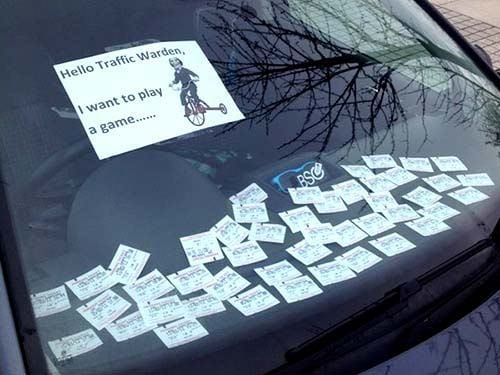 The rules are simple…see if the officer can find the most recent and valid parking ticket...if there even is one. This game would be a nightmare and we can only hope that the person playing can see the comedy side of it. Because, it looks like a complete horror to us.
Wrap It Up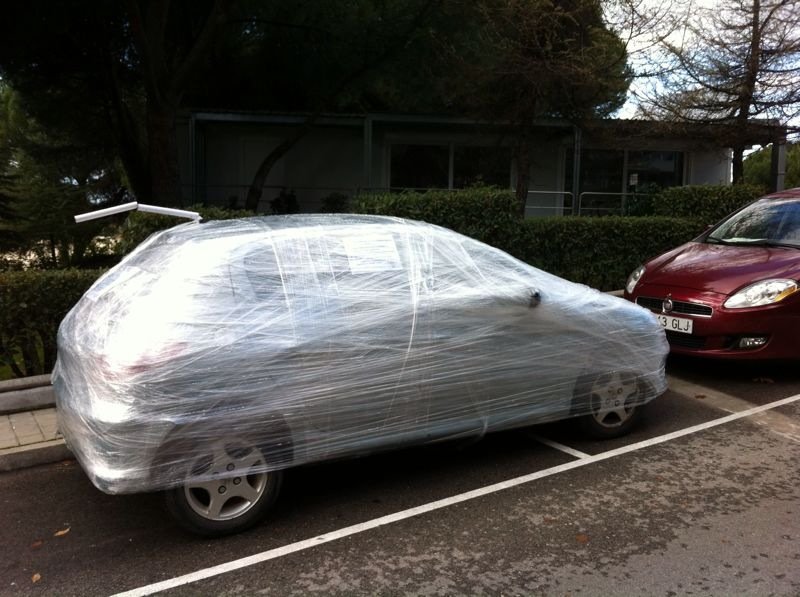 When you're so wrapped in your own little world you end up parking your car like this. Luckily someone decided to teach a lesson that didn't need a note. And to be fair, this works just as fine, if not better. Because even without a note, this sends a message out loud and clear.
Carma At Its Finest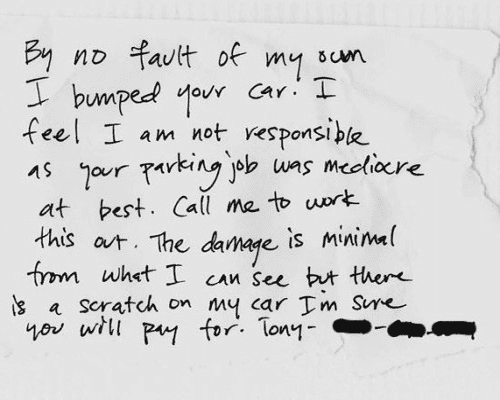 This note proves that karma will always come back to bite you. This driver leaves a note that rightfully puts all the onus on the driver who doesn't seem to understand how parking works. One thing's for sure, the driver is definitely going to pay for his terrible parking in more ways than one.
And Action!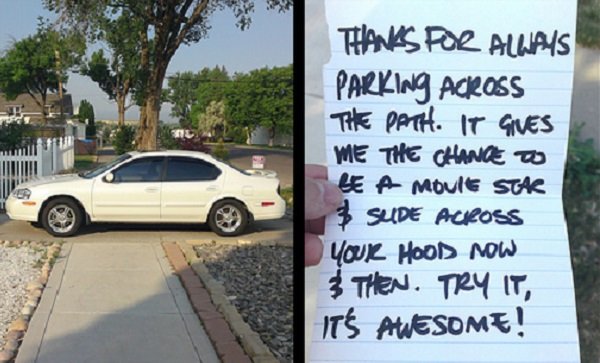 Sometimes bad parking has its benefits. SOMETIMES. If there's one thing we know for sure, it's that the person who wrote this note is a die-hard action fan. t's actually genius to take bad parking and give it an exciting little plot twist of your own.
Know Your Place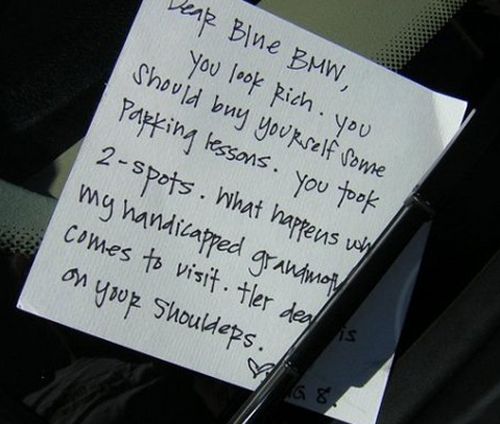 It takes a second to be considerate, and it takes JUUUUUUST a little more than that to look where you're parking your car. This note doesn't travel far and wide to get to its point about people needing to think about others well before themselves.
The Carfather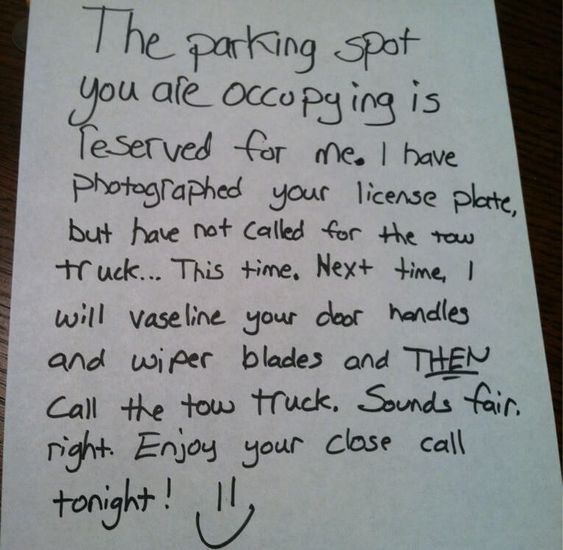 Is it just us or does this give us 'you'll be swimming with the fishes' energy? Unlike the mafia, this gives the driver a 'friendly' little warning and offers them a chance at redemption. You just know that it's an offer that the driver can't refuse.
The First-Ever Shopping CARt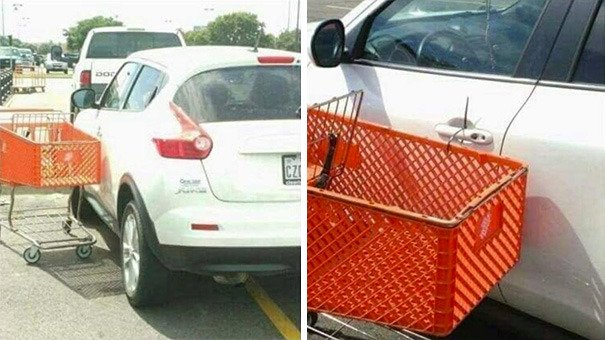 When you're strapped for time you can't write a note, sometimes you just have to improvise just like the person who zip-tied a shopping cart to a driver's door handle. But much like bad parking causes a frustrating inconvenience to us, this should surely do the same to the owner of this car.
Fed Up!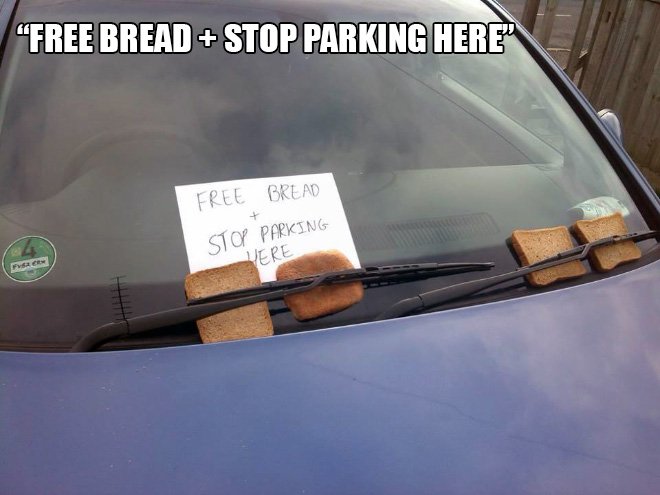 Let's have a toast to the note-writer who chooses to take the high road on this one and decided to be a lot more gentle. We're not sure what the exact correlation of the bread is, but it's a nice gesture that will hopefully be repaid by the driver.
I'd Scream
This is the most heated ice-cold response on our list, and honestly, it's valid! Having your parking taken and watching your ice-scream melt in your hands is a double scoop of inconvenience that no one should have to endure.
Scrape & Escape
It's all about perspective! This unapologetic note tells us that you just have to look the part when you've hit a car that's parked. As long as you come clean in the end. Whoever left this note should get props for thinking on their feet but absolutely no props for their driving skills.
Park, Get Set, Go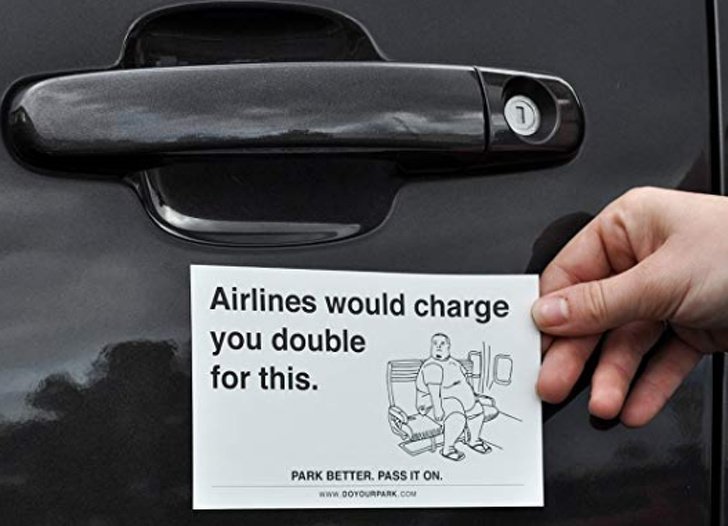 Imagine you hopped on a plane and found someone stretched out across two seats and one of them was yours. It would lead to a serious mile-high fight club. The only rule here is that we definitely have to talk about why bad parking rubs everyone the wrong way. 
Make A Pig Deal Out of it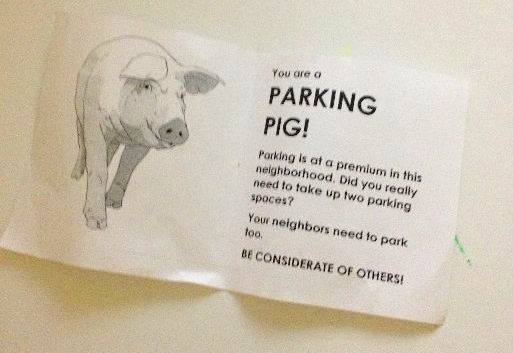 This little piggy is fed up with this issue and he had to get straight to the oink about it. By now we should all understand that greed isn't good. When animals have to remind us of this, it's never really a good sign for humanity, is it?
The Perfect Gift CARd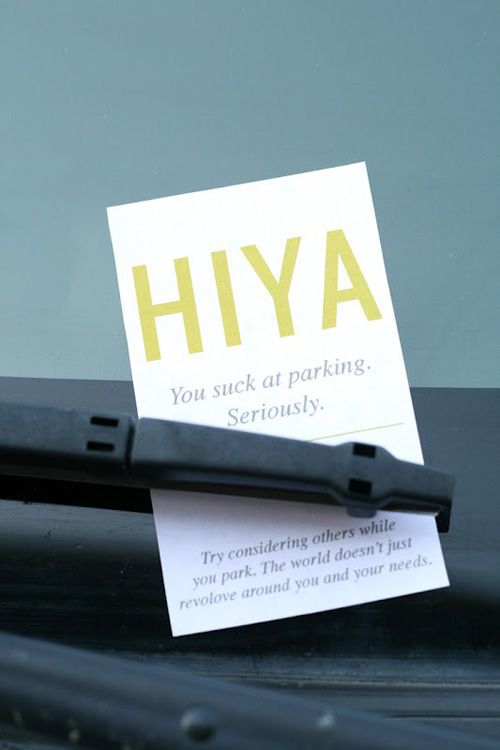 Things are bad when we have to print cards to address this problem. This note doesn't bother mincing words or try to be clever, and some direct criticism like this sends a clear message. Gift shops would make a fortune if they started stockpiling cards like this. 
Get A Bachelor of Park Degree!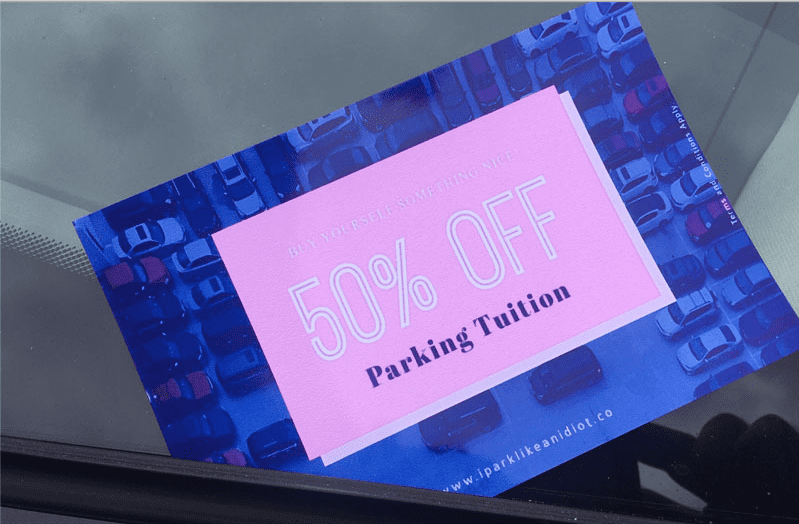 It would simply be amazing if some people could take up a major in parking and maybe then they can graduate into becoming much better drivers! At 50% off tuition, we could probably get rid of 100% of terrible parking in this world. Enroll today!
And The Award Goes to…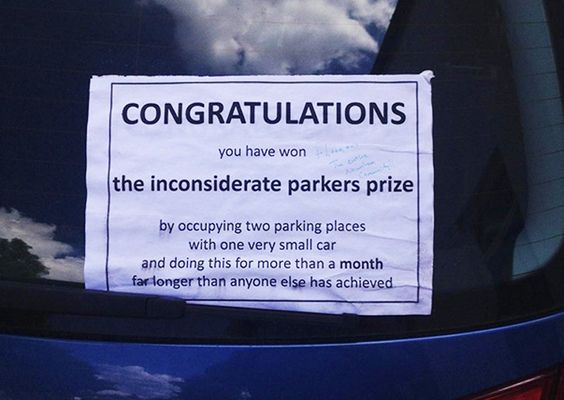 If bad parking was an award the race would be tight every year. But instead of a gold statue or having a red carpet moment, they should rather be completely blacklisted from driving. At least until they learn how to be more considerate, or know to stay within the lines.
Chalk it Up To Selfishness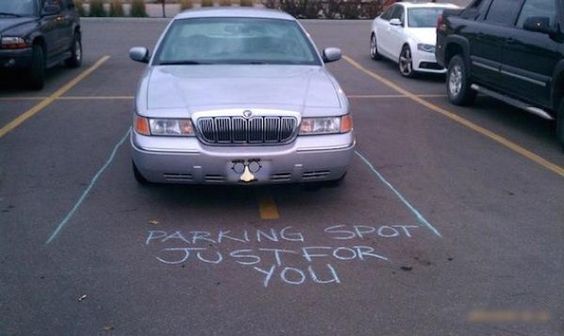 Apparently, it's not only teachers and professors that need to have chalk by their side. It seems like from now on all of us might need it so we can give people who do this their very own VIP space to accommodate them. Except in this instance, VIP will stand for Very Incompetent Parking.
Stop Parking Like Trash!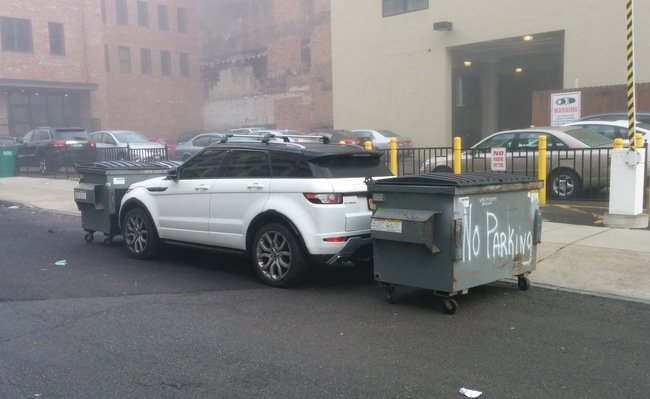 This is a pure definition of calling out people's trash parking. Not necessarily a note, but a very creative way to make a statement. This speaks volumes. And for the sake of everyone, let's hope the trash stinks just as much as the parking in this picture.
Say Squeeze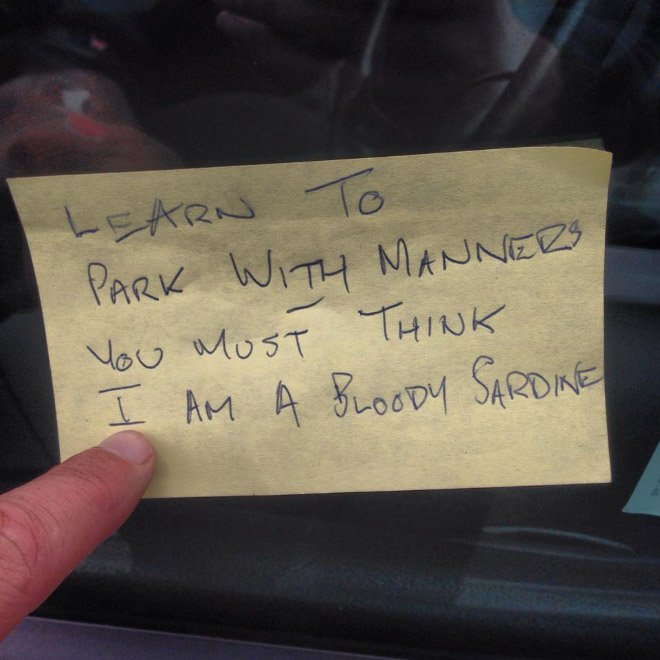 There's something truly fishy about some people's driving and parking that makes you wonder where on Earth they got their license from. This note-writer makes it known that he expects some serious roadside manners when it comes to this. We also can't blame him for being so 'vocal' about it either.
Handicop Parking!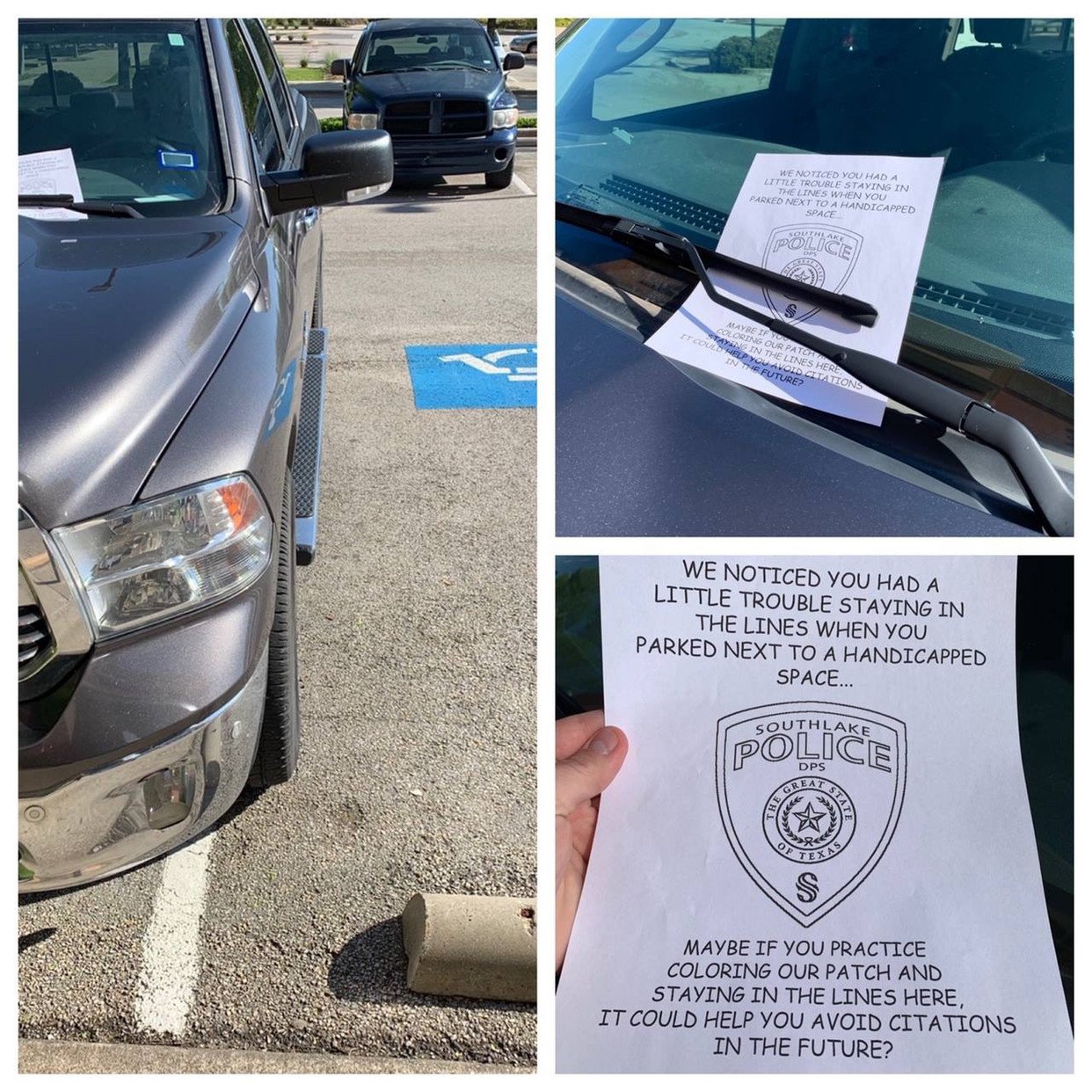 It's truly refreshing to see law enforcement doing what they're supposed to. You know…enforcing the law. Some cops in Texas truly came in handy in addressing a driver who parked in a handicap spot. Maybe this little coloring exercise will do everyone a little justice.
Scrap Attack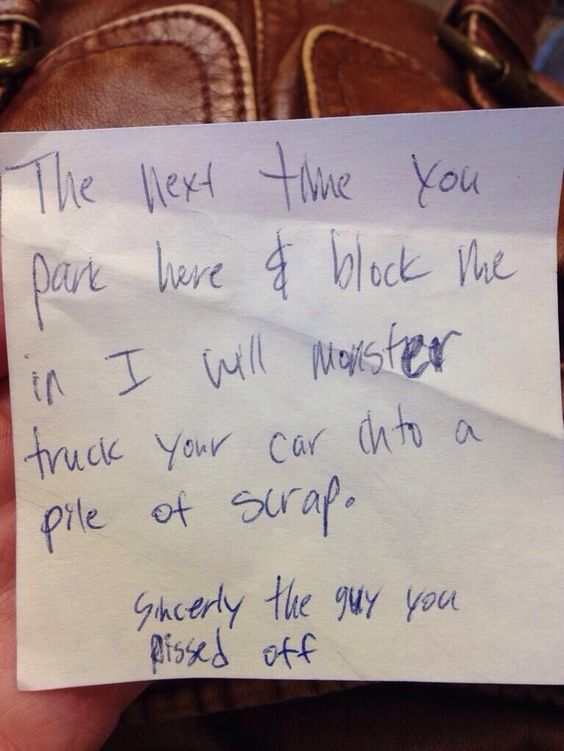 Whoever is on the receiving end of this has created a monster with their less than adequate parking. This is honestly a freakish response to address the manner. But if this is what it takes to eradicate the issue, then we're not going to stand in the way on this one.
Office Space Says: "Stay In Your Place"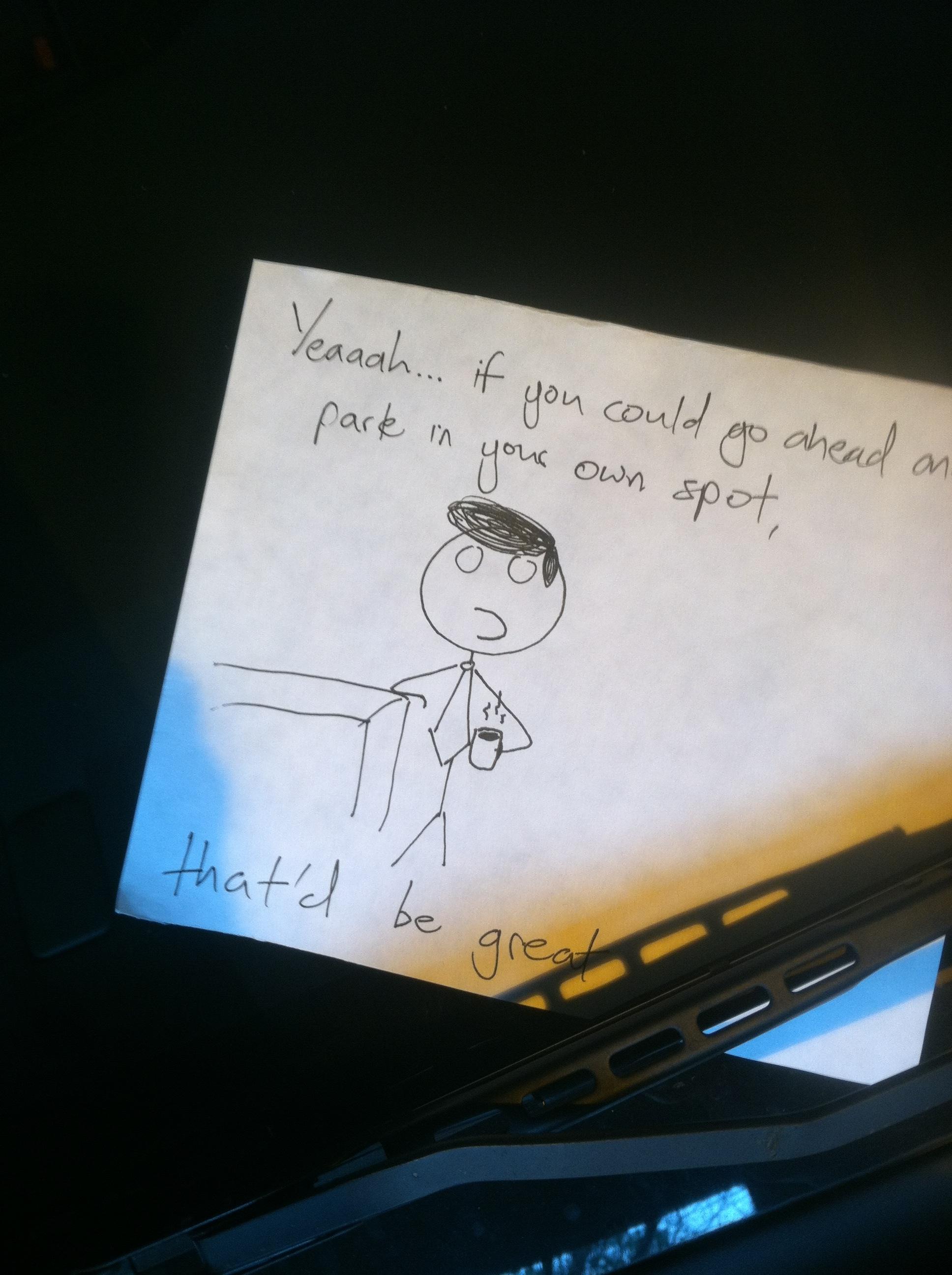 This note successfully uses a great reference (the movie 'Office Space') that tells drivers where they should and shouldn't be. Because, how would you feel if you get to the office and found someone else was sitting at your desk? That wouldn't be great, now, would it?
You Know Nothing…About Parking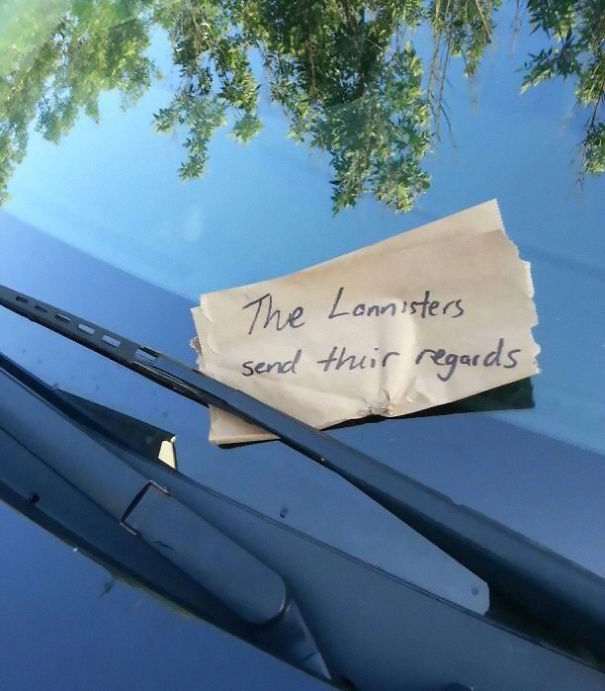 This 'Game of Thrones' inspired note sends a clear and direct warning to someone's questionable parking skills. We know that the Lannisters always pay their debt. We also know they mean it whenever they make their threats.
Manners Go A Long Way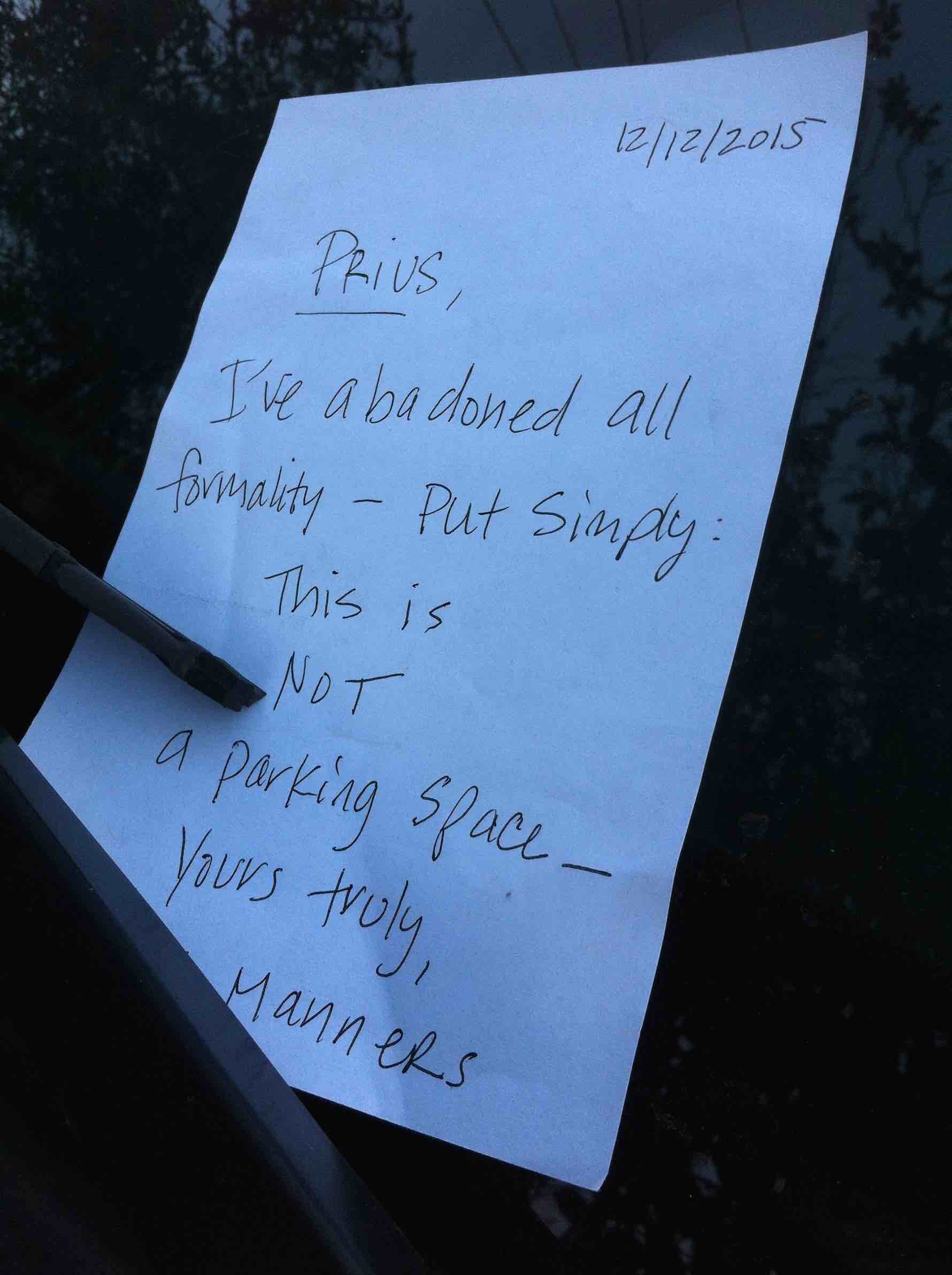 This letter shows how Manners takes matters into its own hands. Calling it out for its consistently appalling parking, someone has clearly had it with hybrid, and needed to let it know. If the Prius is built to help save the environment, it can probably do us all another favor and park better from now on.
You're Parking On Thin Ice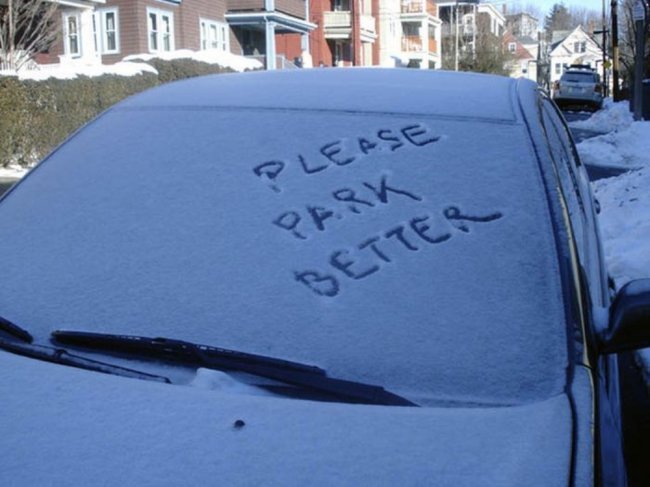 There's no better way to break the ice on this issue during snow season than this. Unable to stick a note on the car because of the conditions, this is the next best way to get a point across to someone who's been a lousy parker in your neighborhood. 
The Infamous Trolley Troll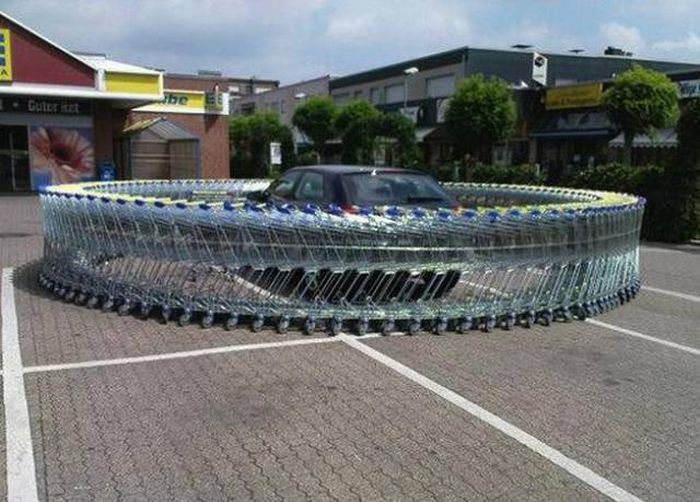 Some pictures are just inexplicably satisfying on their own and this one surely puts a rakish smile on our faces. Whenever you see someone's horrendous park job, how about you circle back to this picture for a bit of inspiration on how to deal with them?
Snooze And Almost Lose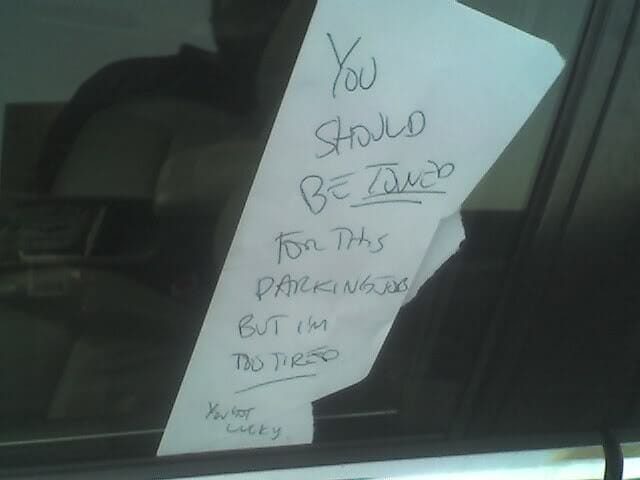 The writer of this note is sick and tired of poor parking in more ways than one. This is a close call for someone who almost had their car towed. Luckily, someone else's desire for sweet dreams helped someone avoid what could've been a real nightmare on this one.
Scared Straight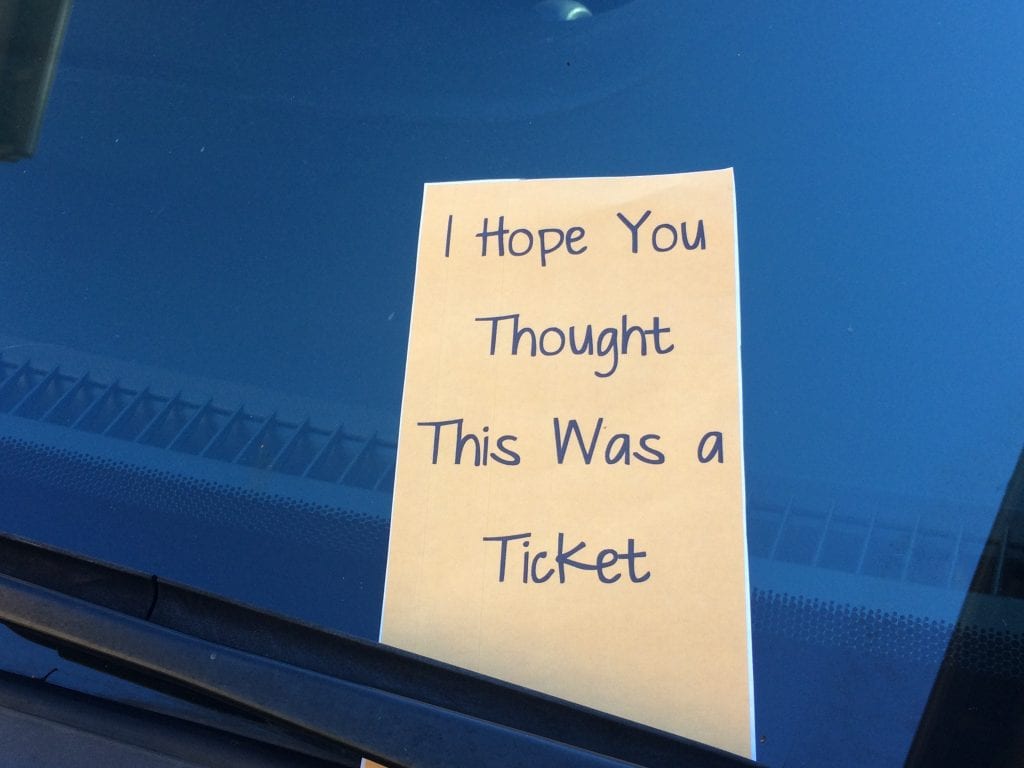 You can almost hear the sigh of relief of the person who saw this on their windscreen thinking it was a parking ticket. This could give anyone a tiny heart attack and ensure a one-way ticket to the emergency room, no matter how harmless a practical joke it is.
Reverse The Curse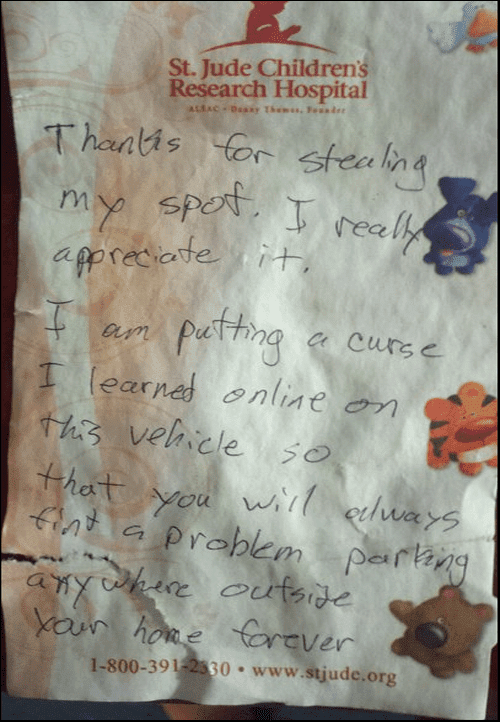 This is exactly what the internet may have been invented for. The roads have had some serious trouble with people who don't quite know how where to put their car. The receiver of this note may seriously curse the day they decided to park in the wrong place.
This Is The Last Draw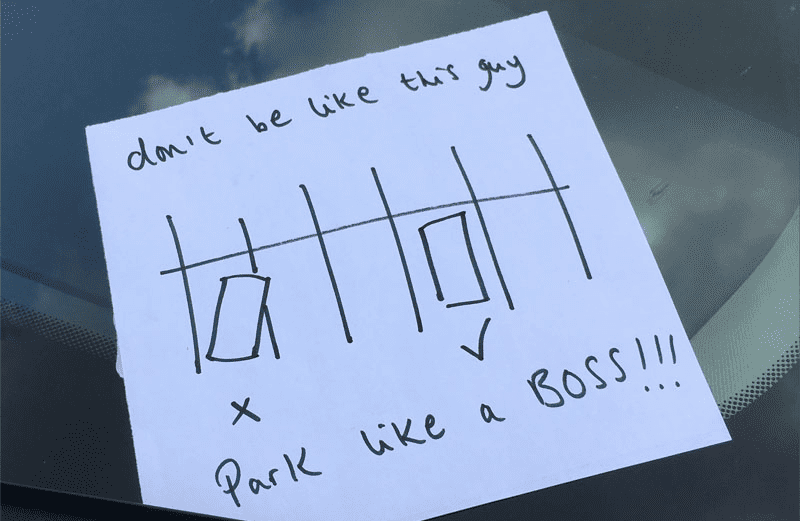 Illustrations are a great way to show people exactly how to park, just in case they've forgotten. This writer is clearly at their wit's end and had to revert back to the drawing board. This seems to a simple way to show some people exactly how parking is supposed to be done.
Modern Warefare Carfare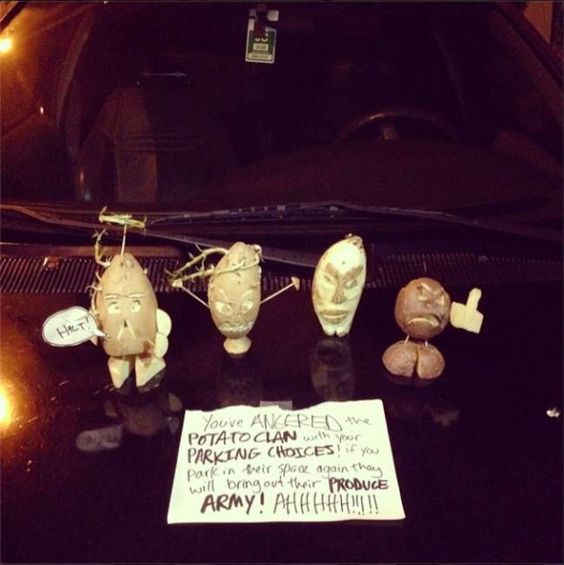 Anger like this truly stems from a truly deep place. The driver is on the cusp of declaring war against terrible parking and we're willing to enlist to help. We all know that potatoes have multiple uses, and this may be the best example of that.
What The Cat Dragged in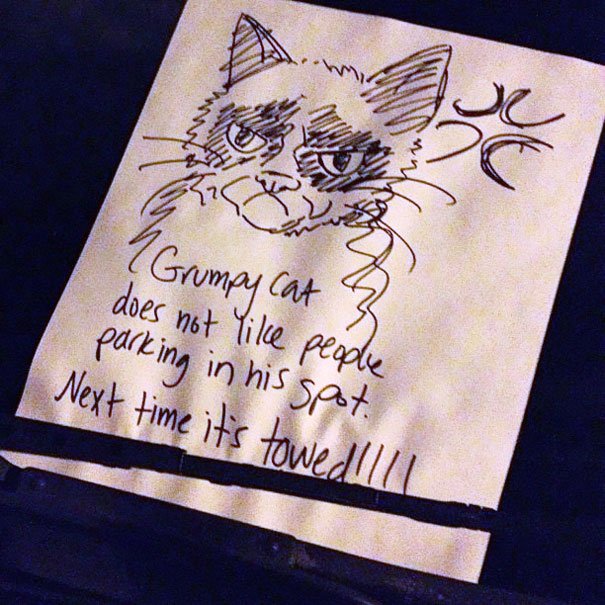 Finally we know exactly how the famous feline feels! One thing that will definitely make the world's most famous cat (after Garfield, of course) is someone parked in his spot. Consider this a fair warning to whoever the driver is. Cats have 9 lives, but you only had 1 chance to avoid getting towed.
Maybe to deal with some truly horrendous parking that you see, the best way to sort it out probably isn't biting your tongue or internally erupting. Let's take a page out of some people's book and start leaving more clever and funny notes to show people the world really doesn't revolve around them. Who knows? We may be saving the next person from feeling the same frustrations we feel whenever someone's in our spot, or taking up 3 spaces at the shopping mall.
Sources: Imgur, Tumblr, TMN, Rhinocarhire, Doyourpark, Thechive, Twitter